Report cards are complete for all students! You can view these on the Infinite Campus Parent Portal. You can find the portal here:
https://sis1.ddncampus.net/campus/portal/wilmot.jsp
If you need help logging in or would prefer a hard copy, please contact the school at (605) 938-4647.

2018 graduates of Wilmot High School who want their permanent file folder may pick it up at the school before August 1st. The records will not be saved beyond this date.

REMINDER: Elementary Football Camp starts tomorrow. See the graphic for more details. High school camp is coming up (grades 7-12) July 17-19.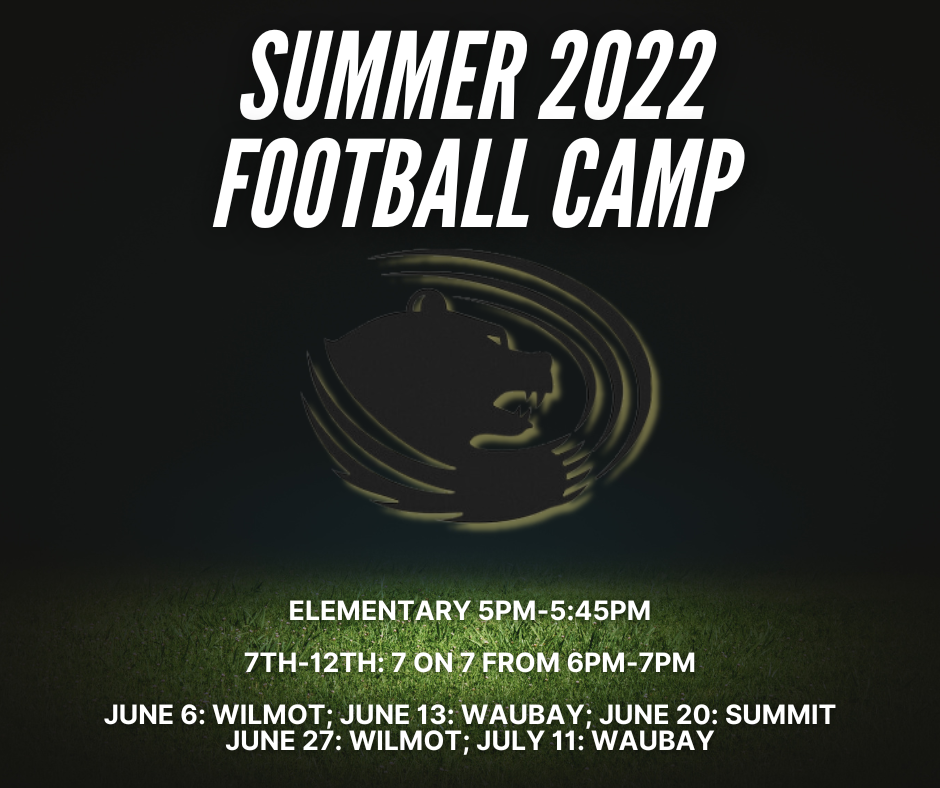 Join us in congratulating Cindy Argo on her retirement! 25 years with the Wilmot School District and a lifetime of learning, encouragement, and lessons for our students! Thank you for all you have done, Cindy, and best to you in your future!

Well, our list is a little shorter... However, we are still looking for some positions! We would like any that may be interested in the Library Media Coordinator position to please contact the school/complete the application on the website by Monday, June 5th!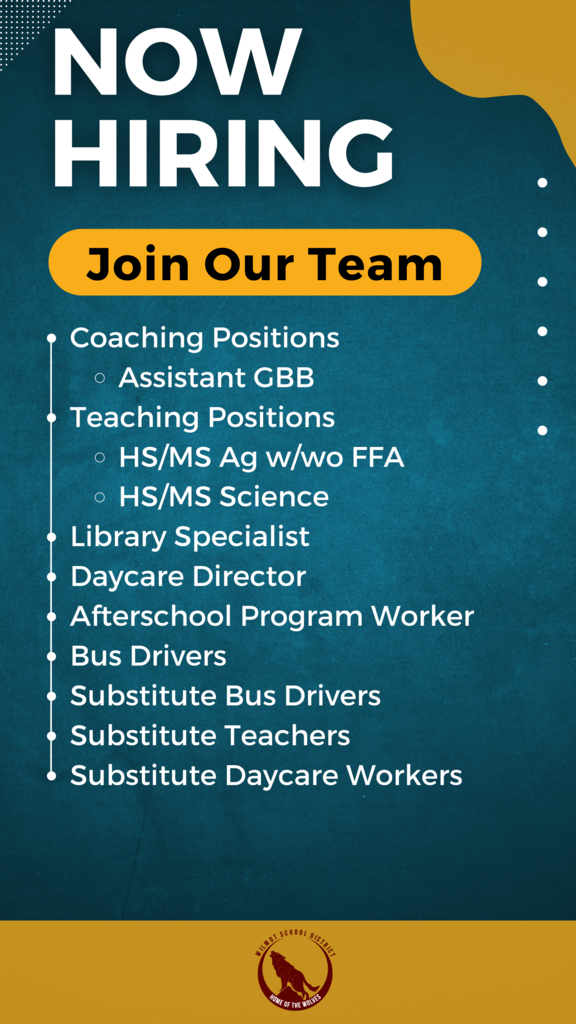 Volleyball Camp for students entering grades 7-12! Sign up at the school. Print and bring in this form or fill one out at the office. Due June 9th.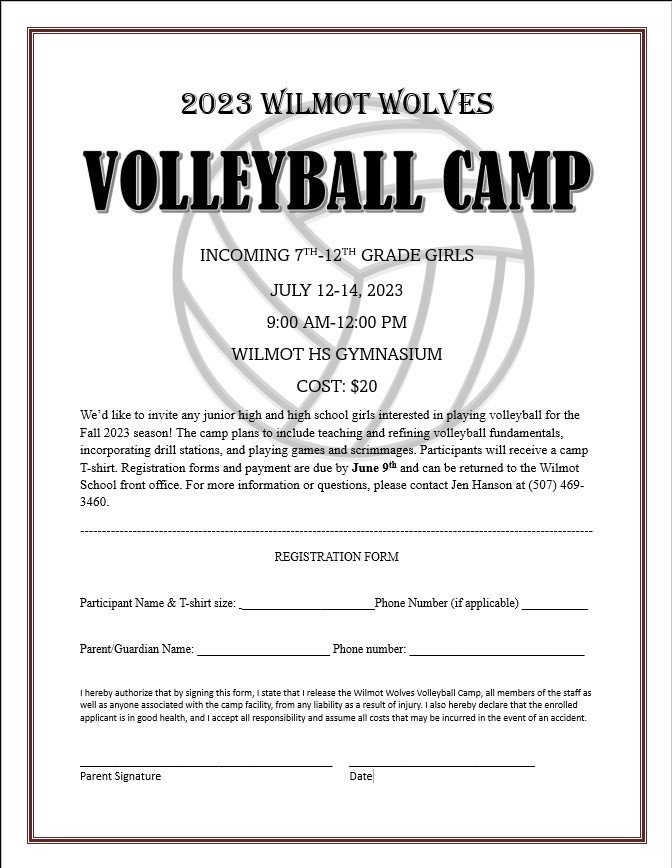 Wilmot student-athletes are now required to complete a full physical each year. If your child completed a full physical last year, you will need to complete another one before the school year begins. The Wilmot Clinic is helping out with a day dedicated to completing physicals for students on July 21st from 8am-2pm. Physicals are $35. If you schedule a "well child visit", Medicaid and/or Insurance can be used, and a physical form can be signed. Parents MUST sign a form (can get these at the school) BEFORE the appointment if they are not accompanying their child. If this date doesn't work for you, please call the clinic and set one up- they are open M, W, and F from 8-2.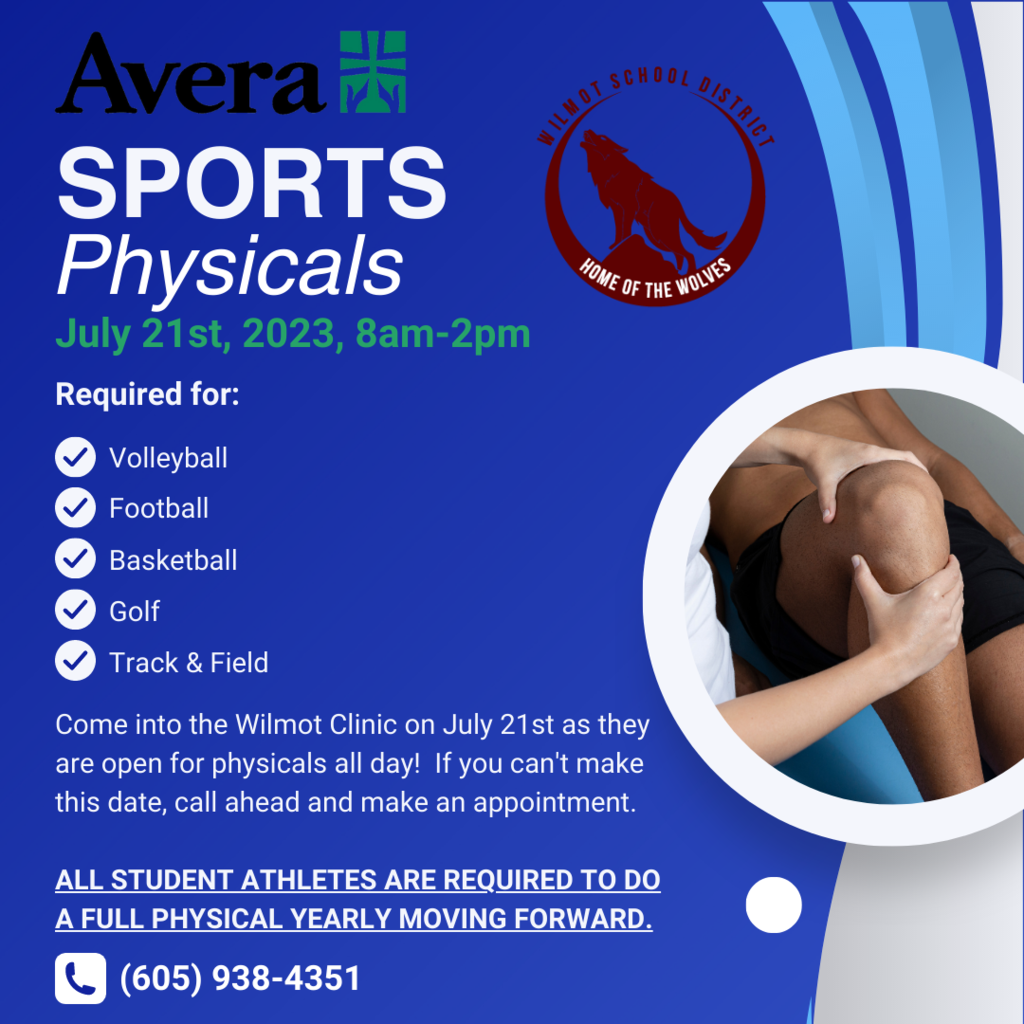 Congratulations to the Core Kinetics Dance students from Wilmot. They ended their 2022-23 Dance Class with recitals on Monday, Tuesday and Wednesday. M. Hansen, H. Heinje, P. Butler, A. Strasser, E. Harstad and B. Heinje.


Elementary Awards are tomorrow! If you're free for a short bit, you're welcome to join us!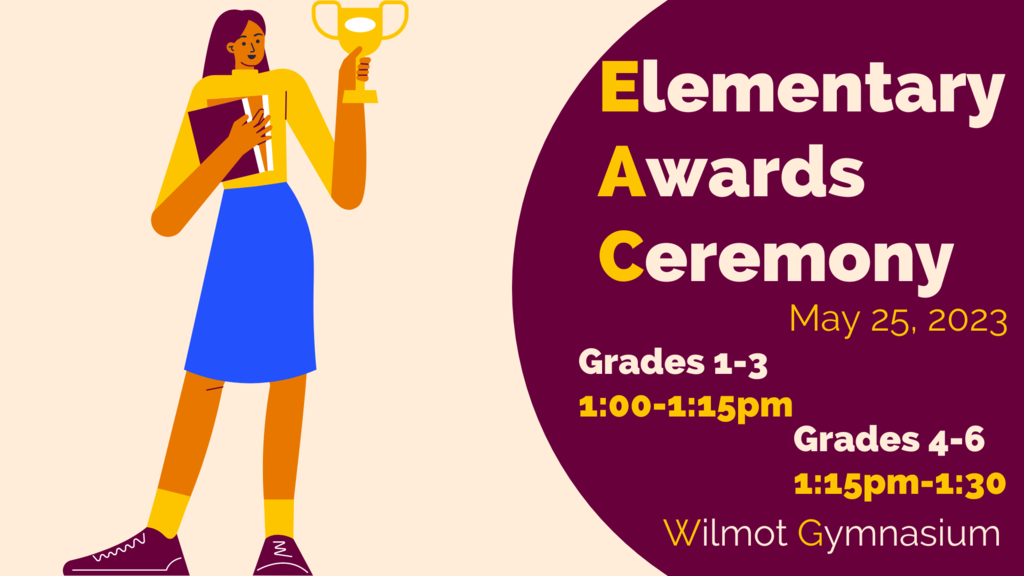 Waubay, Summit, and Wilmot wish all of these ladies the best at the State Track and Field meet this week/weekend in Sioux Falls! Congratulations on qualifying!!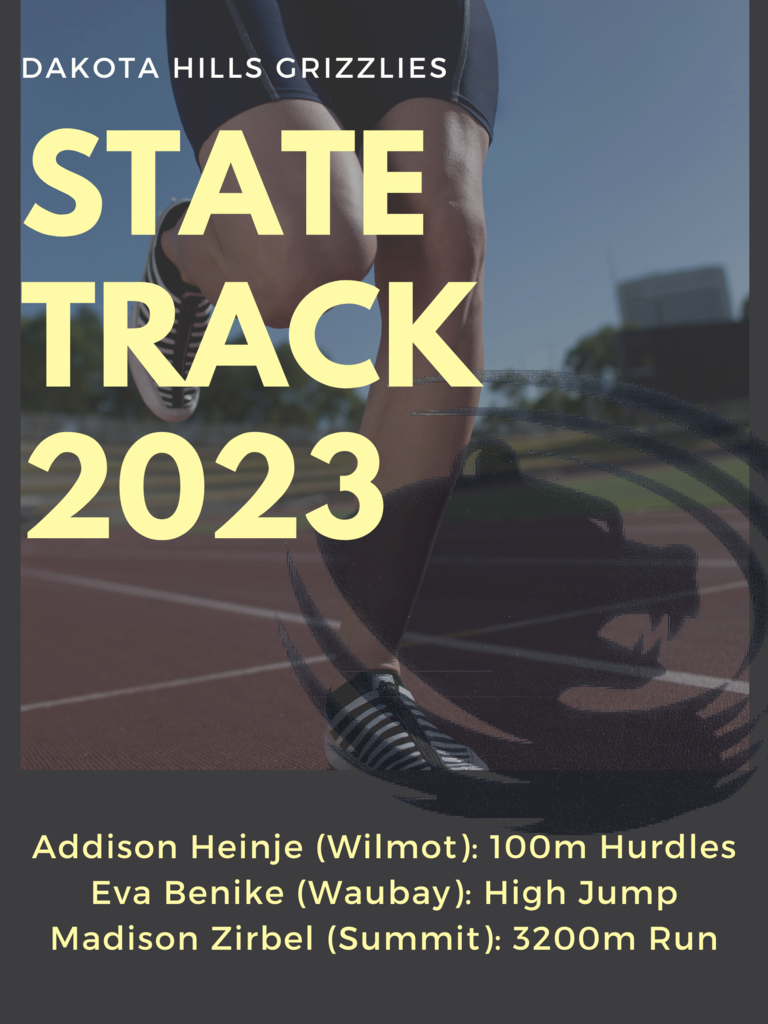 Starting this summer, all athletic communication from coach to student-athlete, student-athlete to coach, parents, etc. will all be handled through sportsYou. This app will have all practices and events listed right in the app! Questions about a game or an event coming up? You can message the coach right through the app. Cancellations or rescheduled practices or events? Posts will go straight to your phone and notifications immediately after the coach posts. A free app is available for download for Android and iOS. If you have questions about this platform, please feel free to reach out to Mr. Hanson. Parents and student-athletes can find the codes in the pictures attached in order to join the teams on sportsYou if you plan on going out for a sport next year.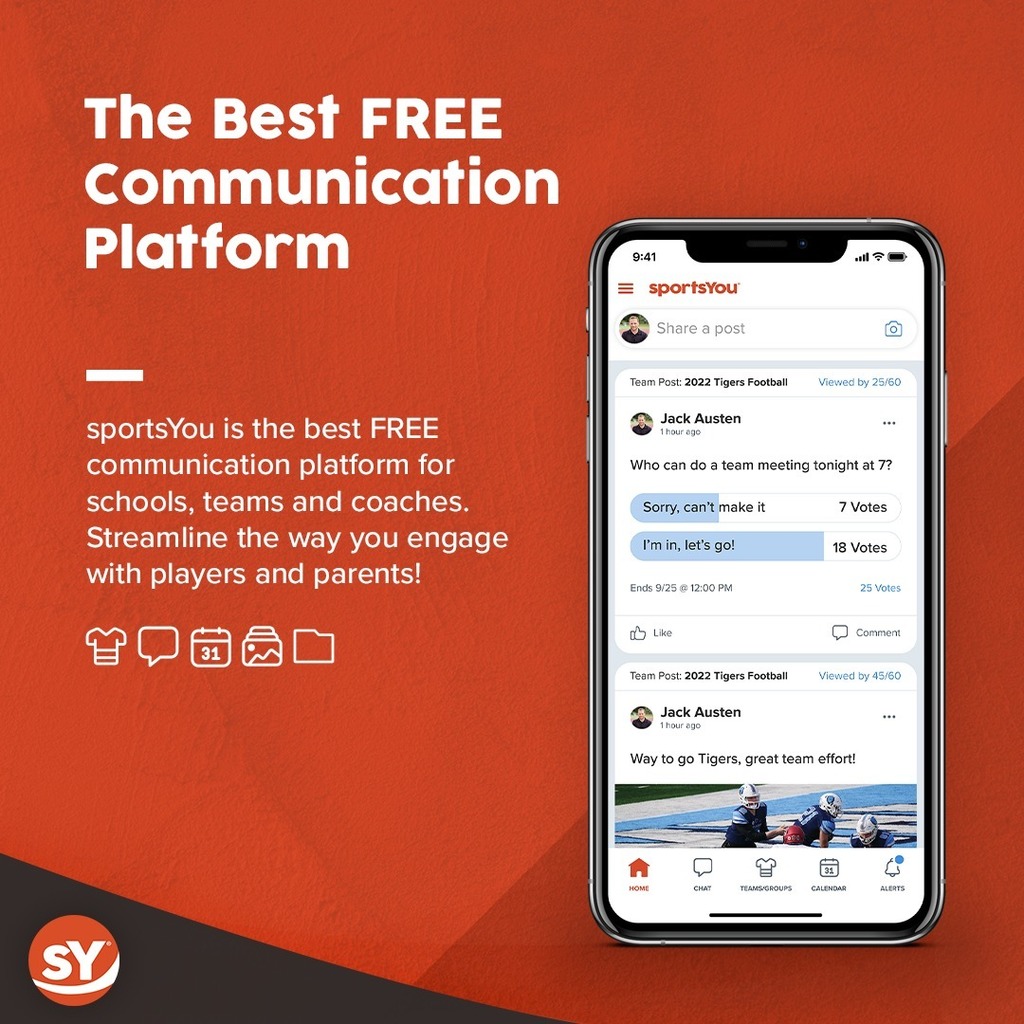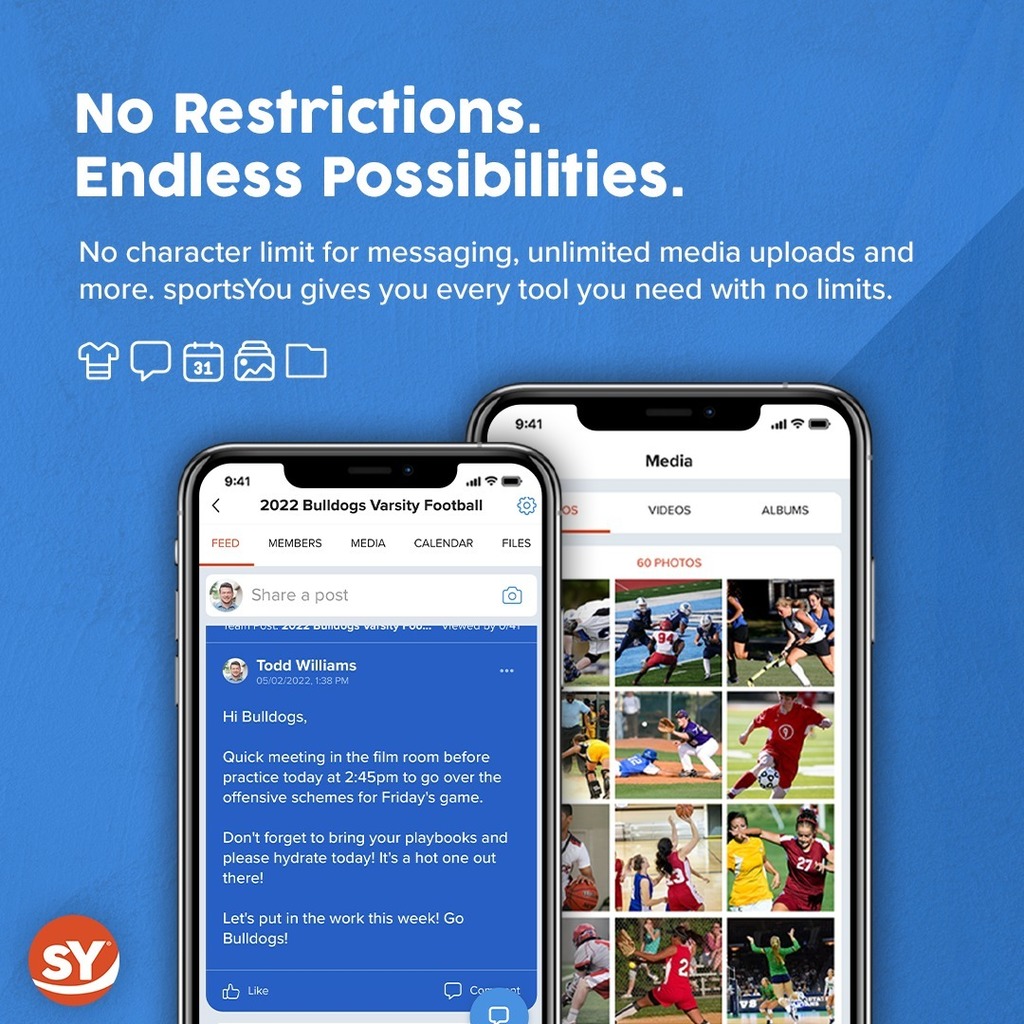 Meet the new Volleyball Coaches starting this Fall! (Sooner, actually, with summer camps and open gyms!) Jen Hanson is a Nurse Practitioner by trade and is the founder and co-owner of The Timber Lane Co. in Wilmot. Jen has four children in the school district (five if you count her husband). Coach Hanson has experience in Wilmot High School Volleyball (graduated 2001) and has participated in league sand volleyball in the Mankato, MN area for the past few years. Kim Ammann is a practicing Licensed Professional Counselor at Bridgeway Counseling Center in Watertown, SD a nd has three children in the Wilmot School district. Coach Ammann has experience at the high school level in Savage, Wyoming and played college basketball at Crown College in St. Bonfacius, MN. Heidi Pelzel is a nursing instructor at South Dakota State University in Brookings, SD and has two children in the district. Coach Pelzel also played Volleyball for Wilmot and also graduated in 2001! Welcome these three amazing individuals to our coaching staff in Wilmot! We're excited to have them on board! Coach Pelzel will be meeting with JH VB players on Wednesday this week at 12:00pm during advisory and lunch. Coaches Hanson and Ammann will be meeting with HS VB players Thursday this week at 12:00pm during lunch and advisory.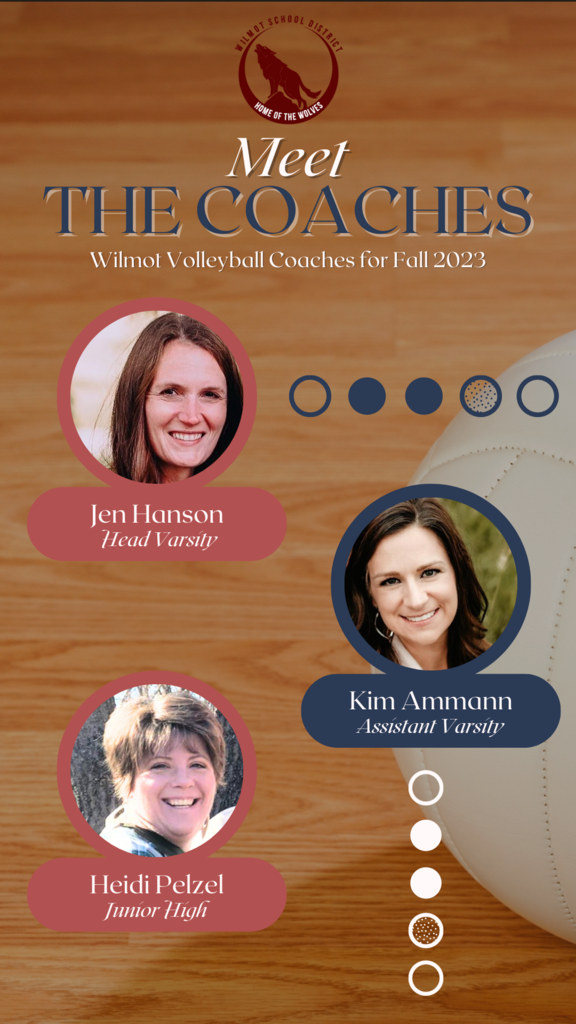 Amy from RC Technologies just stopped by with a couple helmets for two lucky winners from the "Ride Your Bike to School Day" on Wednesday! Thanks to RC and the Roberts County Sheriff's Department for helping to keep our kids safe!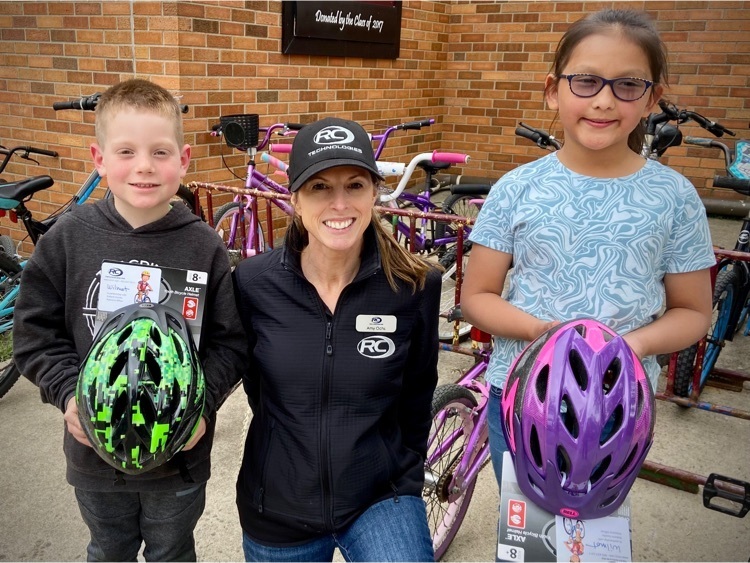 Order your 2022-2023 Yearbooks now! Visit jostensyearbooks.com to order. Kindergarten parents - did you know your student is featured in a "When I grow up page"? These are great memories for years to come. Purchase today for only $30 If you're interested in previous years, those are also available at the school.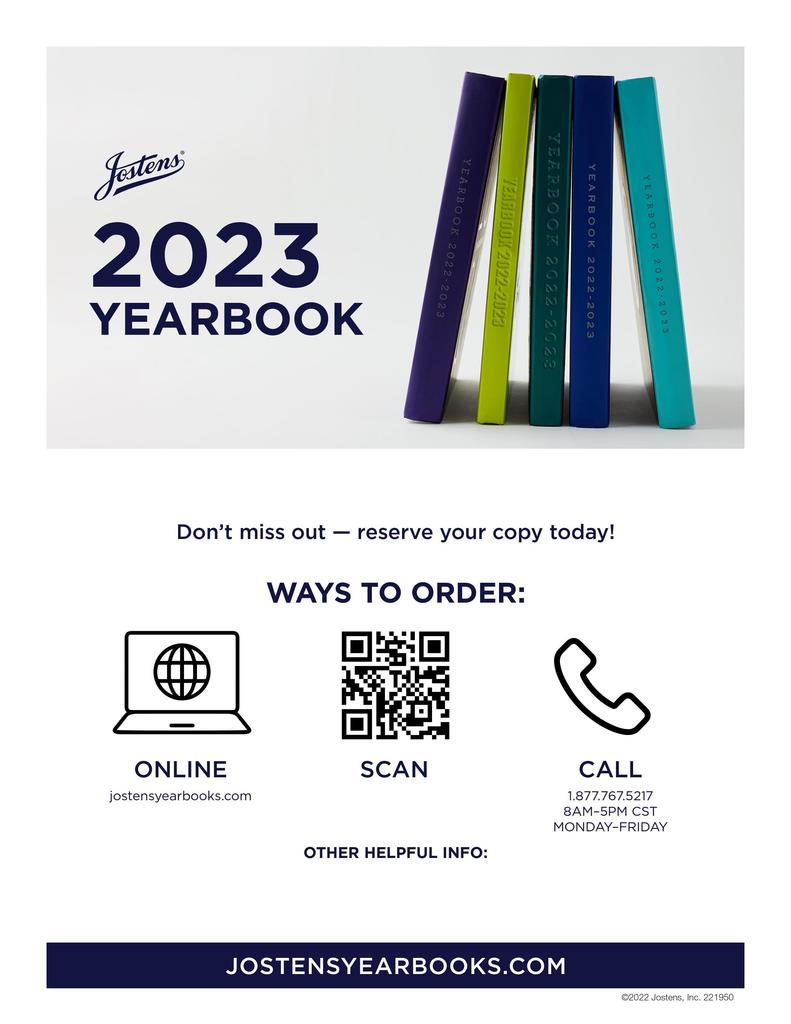 Preschool graduation last night in McKenna Hall!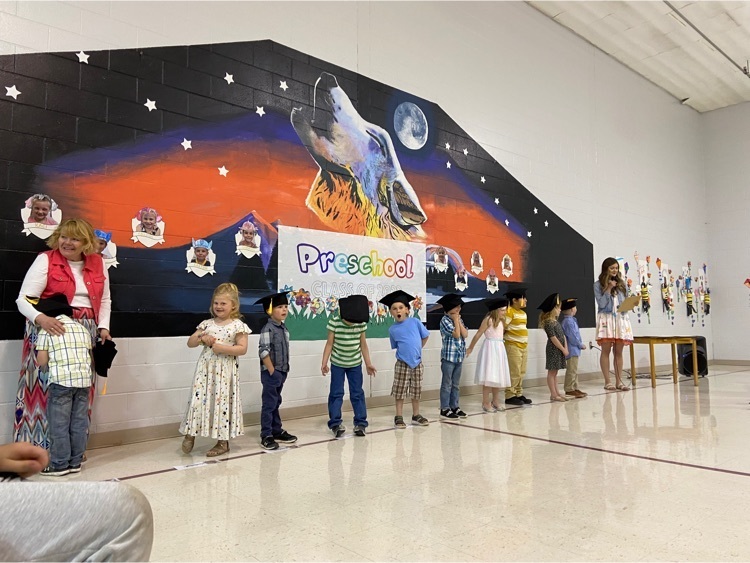 First grade visited the Chahinkapa Zoo in Wahpeton last week!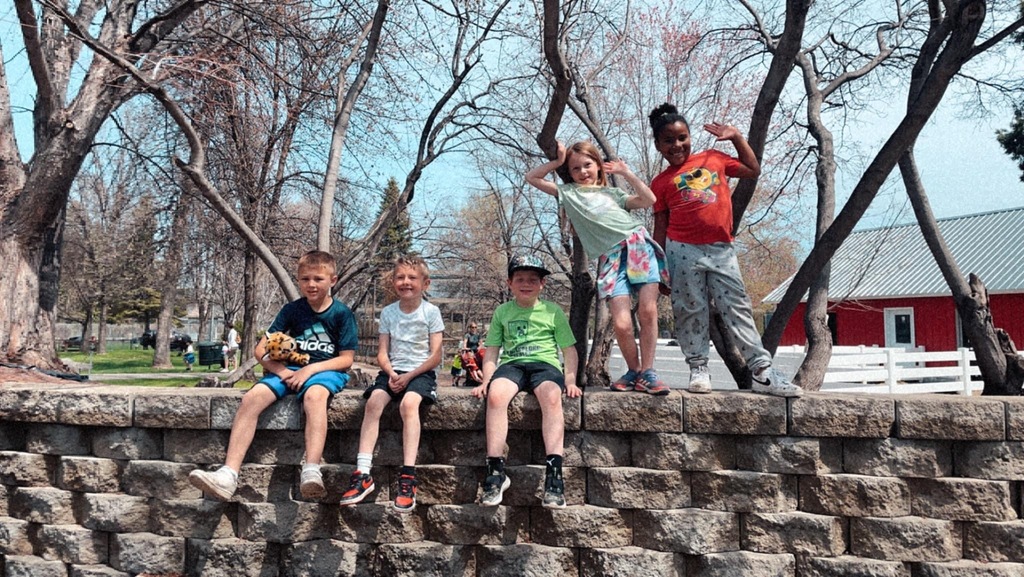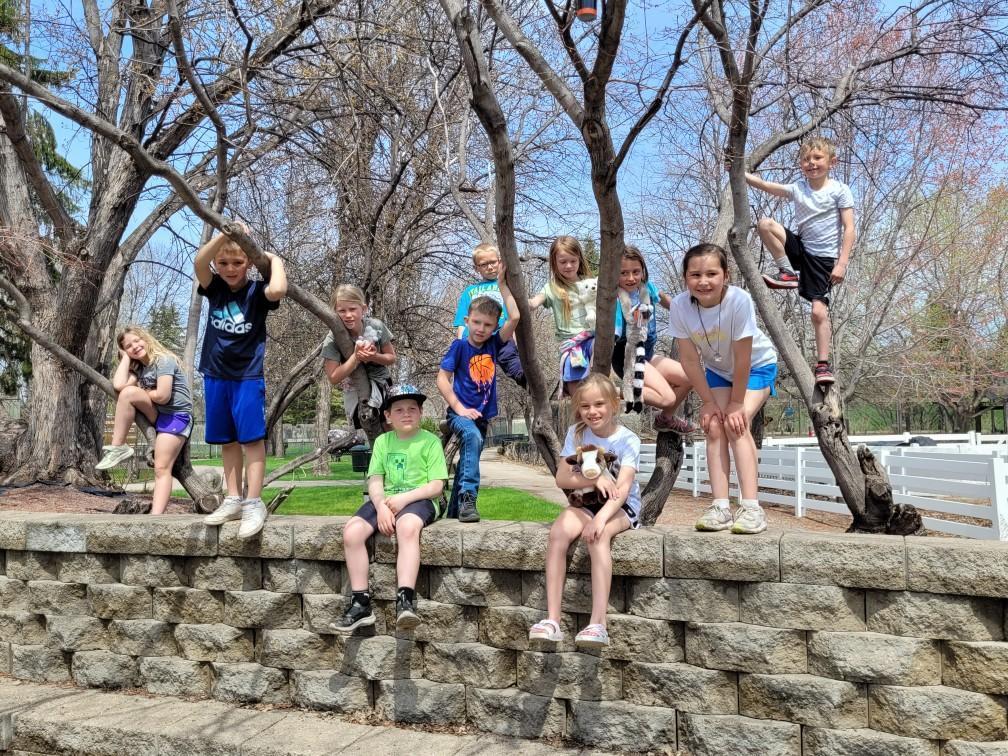 Today was National Ride your Bike to School day! We had a number of students participate and one who even rode his bike over three miles to school this morning!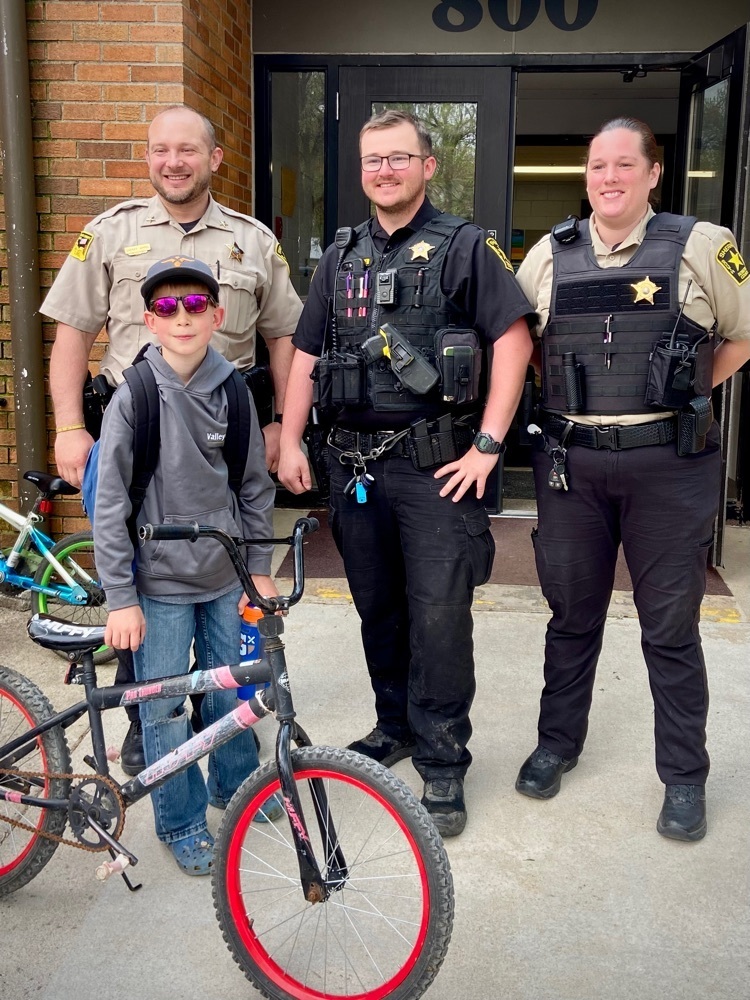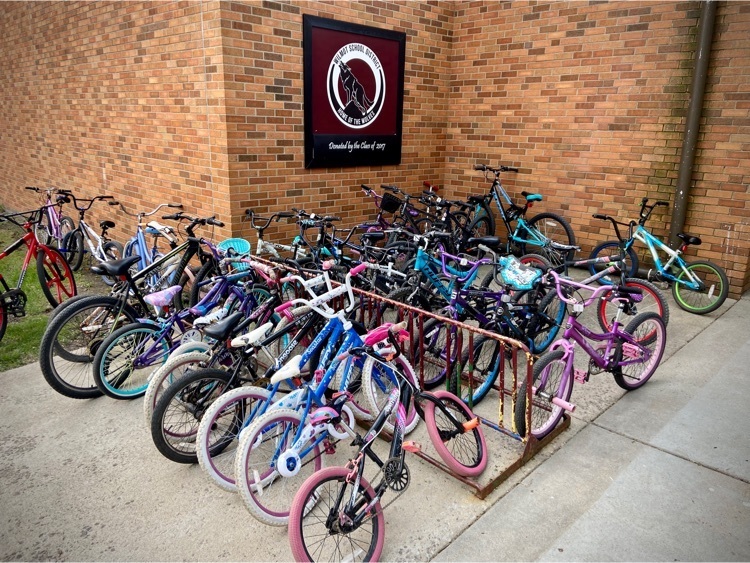 Preschool graduation is tomorrow night! Preschoolers should be in the preschool room at 5:45pm.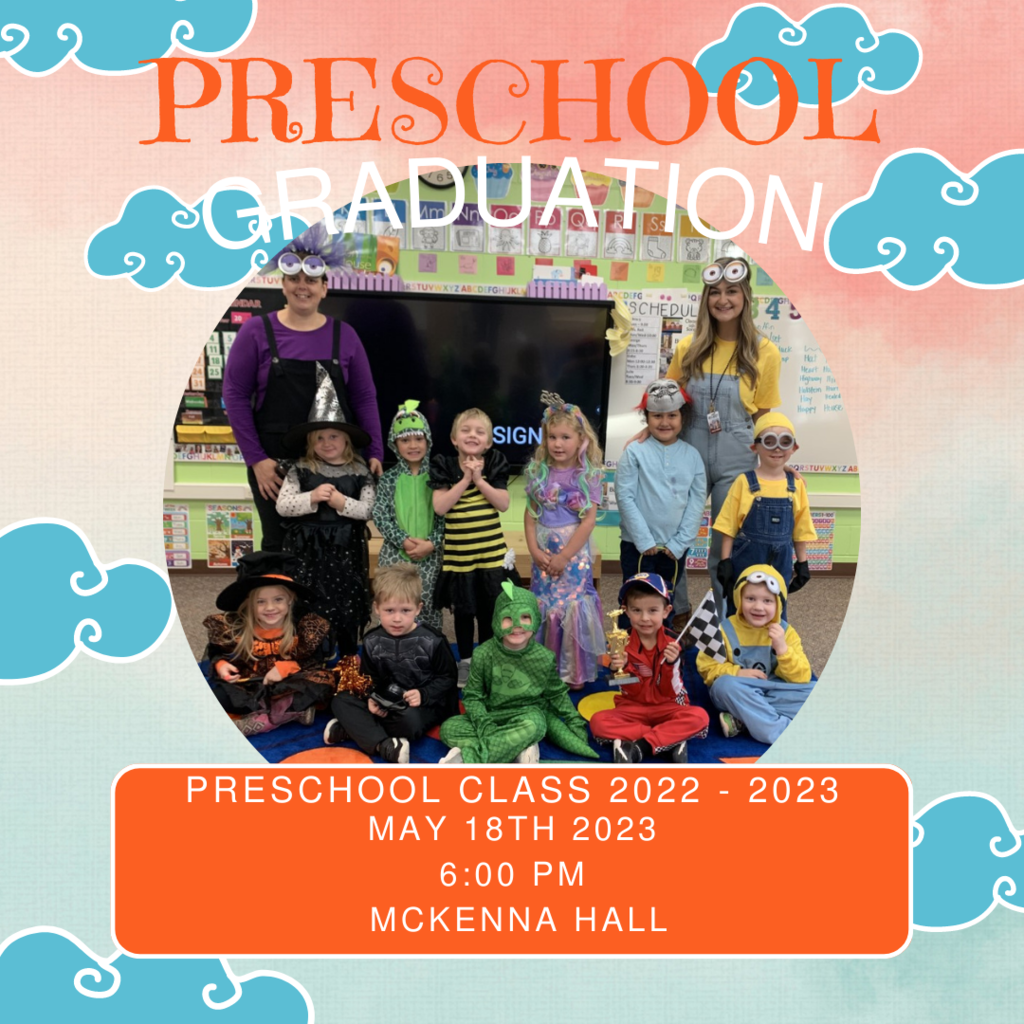 These guys have been waiting patiently for this post! Record broken last week for Dakota Hills with our 4 x 400 relay! Jaxen Dockter, Maddux Foss, Ethan Schwenn, and Teegan Gaikowski ran a 3:58! Nice work, guys!