Wilmot School will be 2 hours late tomorrow, Tuesday, January 17. No breakfast or preschool.

The junior high basketball games for the evening have been postponed.

Good afternoon! The Wilmot School District is implementing "Flexible Learning Days" as an option if we have to call off school for the day. Elementary students will be bringing home a packet today. Please keep this at home in the case we call a "Flexible Learning Day" in the near future. Middle and High School students will be logging in to their classes via their devices. You can see the following images for more information!
Today, January 11, Wilmot School will be 2 hours late icy roads. No preschool or breakfast.

Mr. Hanson just realized he didn't post about the updated Leola-Frederick games that were postponed recently. The original date for these games was January 3, 2023. The new date and times for the Leola-Frederick doubleheader will be: January 16, in Frederick, SD JV Girls 4:00 JV Boys 5:15 Varsity Girls 6:30 Varsity Boys 8:00

The school district will be holding a fundraiser on Thursday for one of our families. A family member has recently passed away and our school community would love to show our support for them. Students and staff can "wear a hat" if they donate at least a dollar to the cause. If you would like to contribute, stop by the school on Thursday!

When things don't go quite right and those around you step up and help out, you go out of your way to show your appreciation! Thanks, Monte and Jerad for stepping in at the last minute to officiate our game this evening! An additional thanks to Patrick Schwenn and Larry Hulscher as well for getting the show on the road!! Literally couldn't do it without all of you!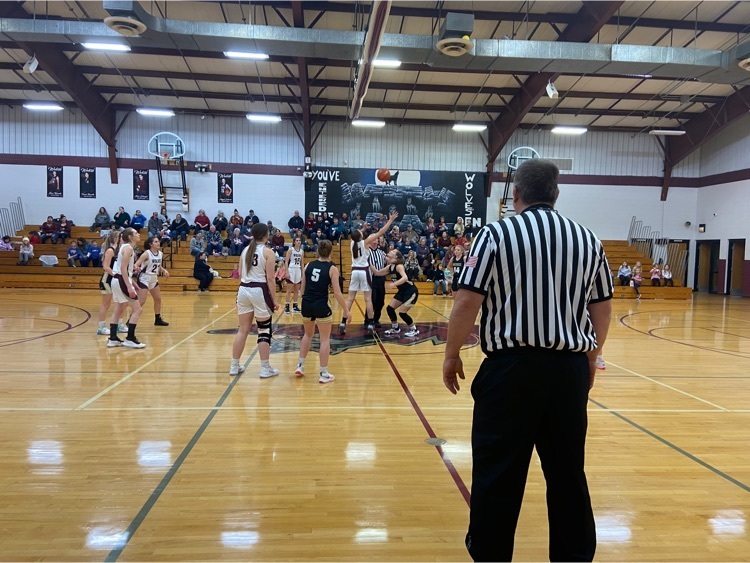 Tomorrow, Thursday, January 5, 2023, Wilmot School will open 2 hours late. There will be no breakfast and no preschool.

Tomorrow, Wednesday, January 4, 2023, Wilmot School will open 2 hours late. There will be no breakfast and no preschool.

Due to inclement weather, tonight's doubleheader games in Frederick are now postponed.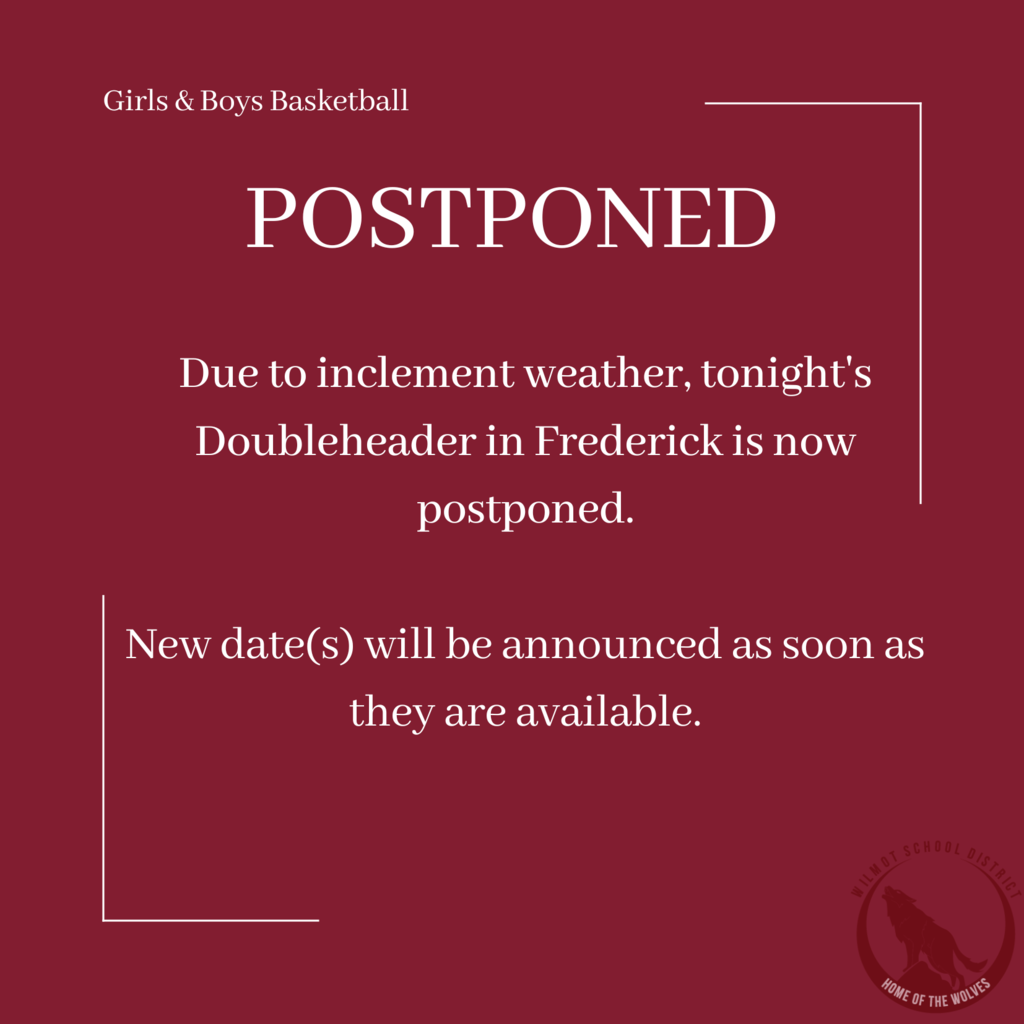 Do you have basketball experience either as a player, official, or have a thorough knowledge of the game? The Wilmot School District is always looking for help officiating- for Basketball, we are looking for both JV and Junior High adults that might be interested in jogging up and down the court and making the calls. If you're interested, call the school and ask for Grant or email
Grant.Hanson@k12.sd.us
.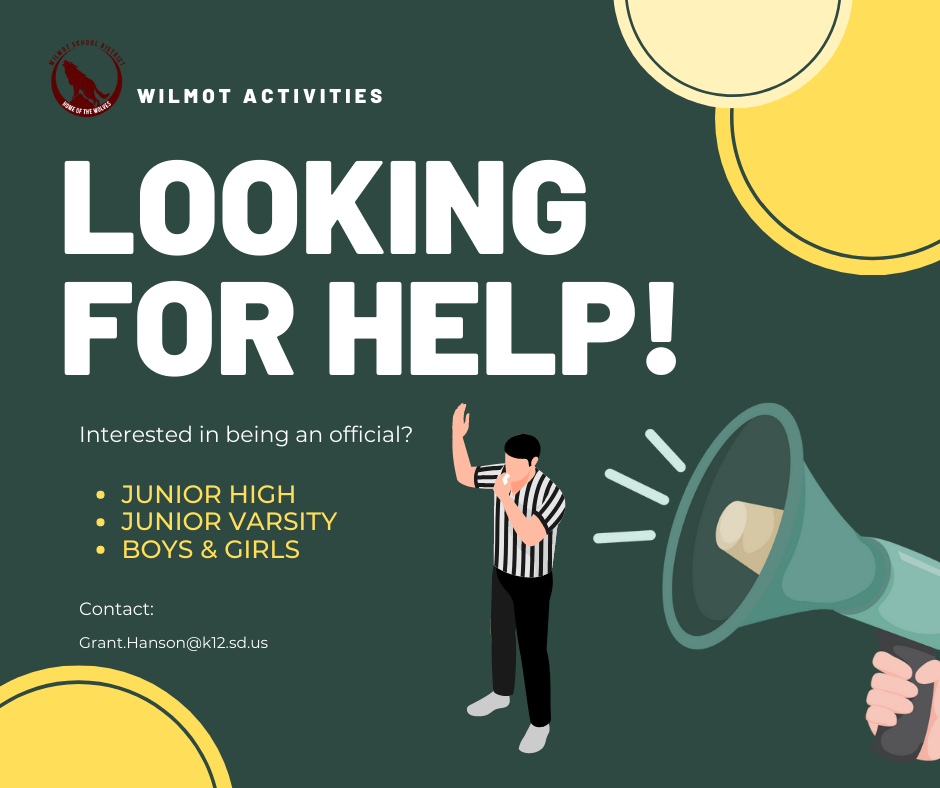 Join us this evening as we host Northwestern for a doubleheader starting with Girls JV at 4:00pm!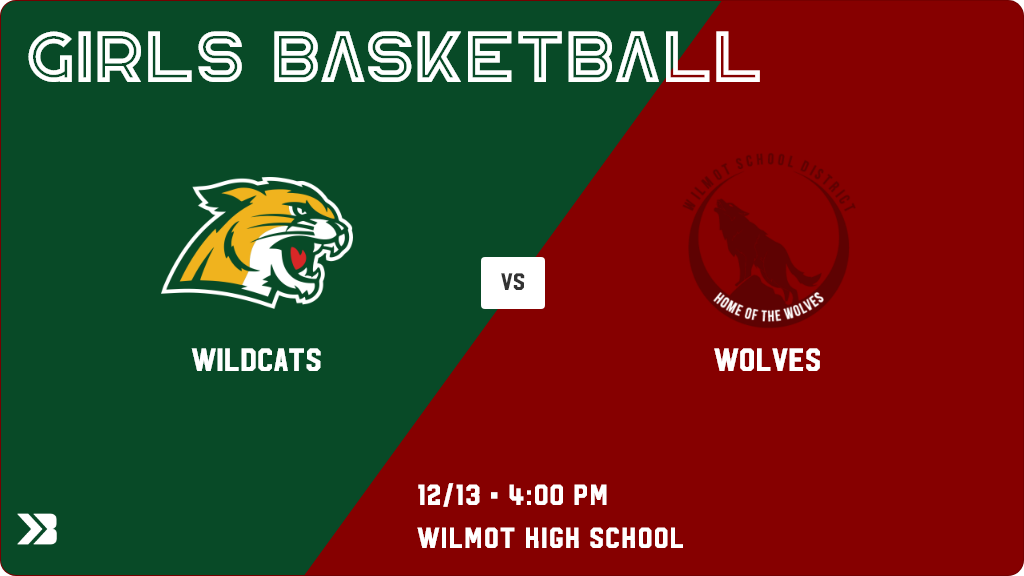 Due to the wind chill warning and the winter storm warning the Wilmot School will be closed tomorrow, December 22. We will resume classes after Christmas break January 4. Have a good Christmas break.

No WASP Tutoring Tonight, Wednesday, December 21st!

Preschool had their Sweet Dreams Party today. Jacque Cameron secures funds (from sponsors/local businesses/donations) to gift each preschooler with a "bedtime bundle" including a book, stuffed animal, blanket, pillow, pajamas, and toothbrush/paste. A huge thanks to Jacque Cameron and our community for all you do for our kids!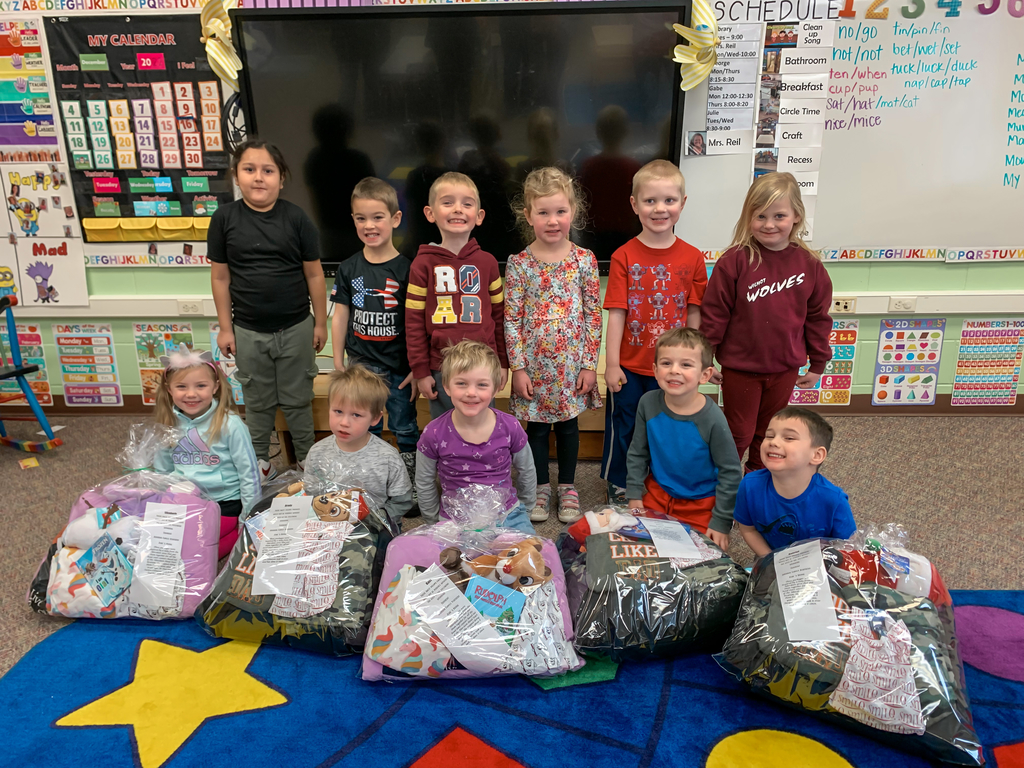 Congratulations to our NHS Squares Raffle winners! Smoker and Meat Bundle: Austin Steiner Grind Gift Certificate: Tara Anderson Timber Lane Certificate: Paula Heinje Jurgens Certificate: Ashley Donnay Wilmot Cafe Certificate: Tina Smith

Due to anticipated inclement weather, the Estelline-Hendricks Girls Basketball games for Thursday night have been rescheduled. For a full rundown of rescheduled dates coming up, see the image attached.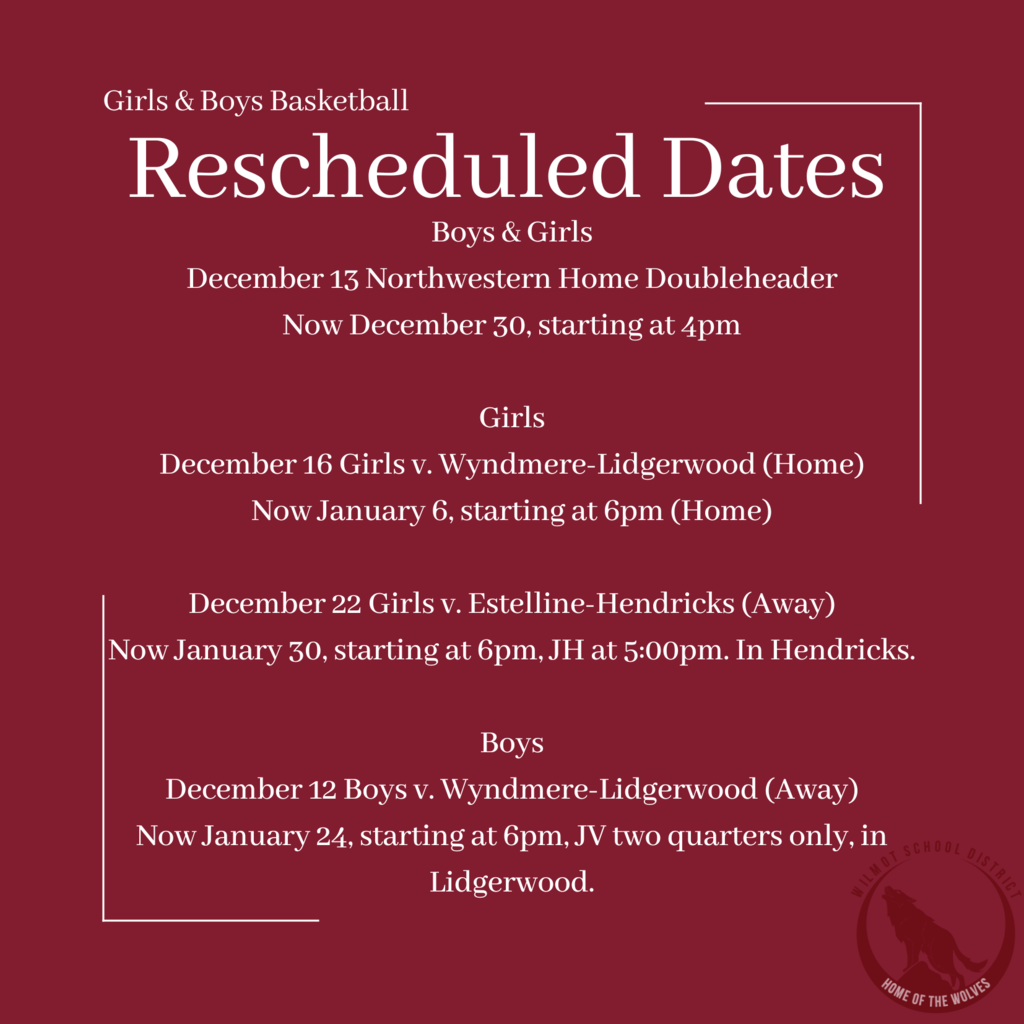 The NHS Angel Tree gifts need to be returned to school TODAY! Please call the school if you are unable to get yours returned.